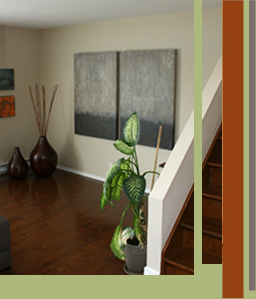 Title: Custom 011

Size: Two 40"x60" on 2.5 inch
thick Gallery Style Canvases

Testimonial:

"We were looking for the perfect
painting for my large living room.
While surfing online I came across Andy's
art on eBay.com. I commissioned him to
paint me a 2 panel painting. (above) We
brainstormed together on 2 big paintings
that would fill the huge empty wall in
my living room, as well as work with the
colors and style of my decor. I described
my room size, style, furniture and color
preferences to Andy. He sent me his
ideas and sketches a short time later.
I received updates on the project
every week. To make sure the paintings
would arrive in perfect condition
shipping all the way to Canada, Andy
built a very large and solid wooden box.
The paintings got here in perfect
condition and they are now an important
part of my home decor. They are the
first thing people see when they walk
in the room. Thanks a million for the
unique custom piece of art you did
for us Andy! Your service, prices and
quality of work are definitely worth it."



David and Julie
Montreal, Canada



Let me know what you are
looking for. I want to hear
from you. Tell me what styles
you like, what you are having
trouble finding, give me
suggestions of what you want
to see me paint more of or
styles of mine you like.

Click here to share your thoughts.





COMMISSIONED PAINTINGS

*************

FOR THE LATEST NEWS: - Visit my modern art blog to see the latest info on my art shows and exhibits.

*************

My commissioned abstract painting orders have been popular because many people find it hard to locate a painting that is the right size or color combination for their room. I am proud to provide a service that makes decorating a room a lot easier.

I price my commission paintings based on size of work and style requested.

Click here to review my style guide before submitting your custom order request.






Here is how the process works:
After you fill out the custom order form above, I will email you within 24 hours to set up a time to call you to discuss the order. I will discuss many things with you such as: The space that the commission painting is going in, the lighting in the room, and the flow of traffic through the space. I will even ask you to send me photos of the room and other parts of your space that define your style.

I will consider all of this as I create some computer renderings of how the painting will look. I will email the renderings along with an estimate for your review. When you are happy with the design, and are ready to move forward, I require a 50% deposit to start the painting.

When I have the commissioned painting finished, I will email photos to you so that you can approve the final painting before I ship it to you. After final approval, I require payment of the remaining 50%, then UV protectant will be applied and the painting will be ready for shipment.

The entire process takes about 3-4 weeks from first contact to completion, (not including shipping). Rush orders are also available.

Click here to see how the computer renderings compare to the actual finished product.



Part of your purchase helps
an important cause!

I donate a portion of my profits to
the American Cancer Society.