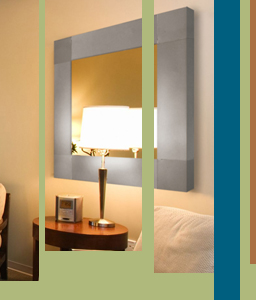 Click the image above
for an enlarged view.


METAL WALL ART :: Mirrors and Frames
Original | Americana | Fusion | Mirrors | Metal Gallery

The Mirrors and Frames Series of Metal Wall Art uses the materials from the other series, forming a creative picture or mirror frame. They can be used to accent other Metal Wall Art in a room, or by themselves to create a unique piece of art for.

All of my Metal Wall Art will be produced in limited quantities, with each having a unique serial number engraved on the back. Not only will these be a great addition to a contemporary decor, but they will also be a valuable collectable. More importantly, these would be a unique addition to compliment your home.

Some of the first serial numbers are still available for each of the series so order yours now.





Visit my Metal Wall Art Gallery to see my original works that are for sale.

As always, commissioned orders are welcome. Due to the intricate nature to building these, there is typically a 3-4 week production period.